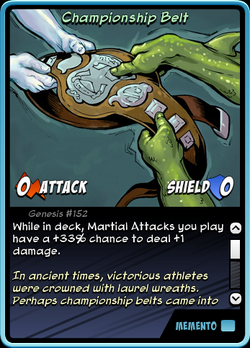 Championship Belt (Genesis, #152) is an Uncommon Memento card with 0 Attack and 0 Shield.
Card Effect
While in deck, Martial Attacks you play have a +33% chance to deal +1 damage.
Card Description
In ancient times, victorious athletes were crowned with laurel wreaths. Perhaps championship belts came into vogue because they're shinier and better for smashing people in the face.
Other Versions
Edit
Ad blocker interference detected!
Wikia is a free-to-use site that makes money from advertising. We have a modified experience for viewers using ad blockers

Wikia is not accessible if you've made further modifications. Remove the custom ad blocker rule(s) and the page will load as expected.