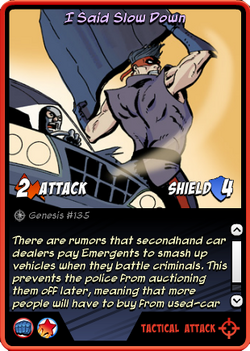 I Said Slow Down (Genesis, #135) is a Rare Tactical Attack card with 2 Attack and 4 Shield. It has the Power and Reflex badges.
Card Description
There are rumors that secondhand car dealers pay Emergents to smash up vehicles when they battle criminals. This prevents the police from auctioning them off later, meaning that more people will have to buy from used-car lots instead.
Ad blocker interference detected!
Wikia is a free-to-use site that makes money from advertising. We have a modified experience for viewers using ad blockers

Wikia is not accessible if you've made further modifications. Remove the custom ad blocker rule(s) and the page will load as expected.