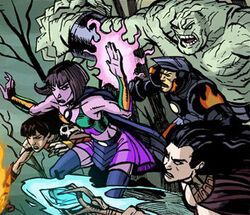 Join Forces (Crisis, #9) is an Epic Martial Attack card with 2 Attack and 4 Shield. It has the Power, Psych, and Reflex badges.
Card Effect
If you have 10 or more Willpower Counters recover 7.
If you have 20 or more Willpower Counters the next attack played against you deals no more than 2 damage.
If you have 30 or more Willpower Counters each opponent depletes 10 cards.
If Join Forces is discarded, gain +6 Willpower Counters.
Card Description
Whether you're an Emergent from Earth, a Chronarch from the distant reaches of time and space, or a sorceress from West Kruna, it pays to be flexible. You never know what sort of eclectic allies fate might have you fighting alongside next.
Ad blocker interference detected!
Wikia is a free-to-use site that makes money from advertising. We have a modified experience for viewers using ad blockers

Wikia is not accessible if you've made further modifications. Remove the custom ad blocker rule(s) and the page will load as expected.