Welcome to Legacy of Heroes wiki!
A collaborative project to create the most definitive, accurate, and accessible encyclopedia and reference for everything related to Legacy of Heroes CCG.
Issue 12
Hat will be back together with his faithful assassin IxNay! Next story will be also featuring the long waited Meanwhile Squadron. Will it reveal the mystery behind Codename: Soldier current state?
| | | | |
| --- | --- | --- | --- |
| Name: | Denny Goodwin | Race: | Human |
| Group: | former Upstart | Signature power: | Symbiotic relationship with the city |
He may once have been mild-mannered. But if so, that died along with his innocence when he started covering the crime beat. Seeing the underbelly of human civilization, all the evil that men do, has a way of changing a person.
He was covering a series of horrific killings and mass suicides when his powers emerged. He discovered that he could perceive connections between events in the papers, understanding links that would otherwise have gone unnoticed, and he developed a symbiotic relationship with the city itself.
These traits allowed him to go outside the limits of law enforcement, tracking down criminals wherever they hid and subjecting them to vigilante justice.
Read more on: Denny Goodwin >>
New 10th Issue is live!
"Synopsis: After the Absolute Reckoning Young Zeroth without his powers and memories is defenseless. A group of freelancing mercenaries and ex-crimelords was hired to capture and bring him to the mysterious benefactor. Drama Club together with Home School are trying to help Zeroth battle old enemies: Firerazer, Sunder, Torrent and Notch backed up by horder of henchmen: Sunderlings, Kindlings and new Torrent's minions - The 8-Bits.
What is new: This issue introduces new Vengeance set along with new character Johnny Tinker - Zeroth's friend from Genesis times and a new member of Homeshool.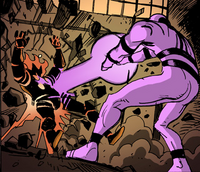 First part of the new set is available. Cards from this set are focusing around Young Zeroth, Home School, Drama Club and their battle against Sunder, Firerazer, Torrent and Notch. Introducing new versions of old known heroes and villains along with new Home School member - Johnny Tinker
No new mechanics were introduced in this set so far.
New, mysterious character is appearing on few cards from the game - Ms. Modulus. Probably she is the mysterious force behind the attempt to kidnap Young Zeroth.
Wiki needs your help
Legacy of Heroes wiki is an encyclopedia of Legacy of Heroes collectible card game in which players take on the role of new students at a school for people with superhuman abilities. Wiki contains full catalogue of cards, skills, enemies and character histories.
Just remember few things: this is a wiki, everybody can edit, nothing can be broken and work is never fully done.
We have our own forum dedicated to Legacy of Heroes wiki. Do not hesitate to ask questions, share your opinions or exchange comments.
Like us on Facebook
Facebook likes
+1 our G+ page!
google snippet goes here