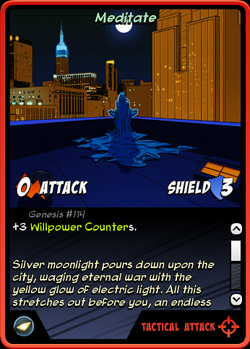 Meditate (Genesis, #114) is an Uncommon Tactical Attack card with 0 Attack and 3 Shield.
Card Effect
Card Description
Silver moonlight pours down upon the city, waging eternal war with the yellow glow of electric light. All this stretches out before you, an endless infinity of steel, glass, and concrete.
Ad blocker interference detected!
Wikia is a free-to-use site that makes money from advertising. We have a modified experience for viewers using ad blockers

Wikia is not accessible if you've made further modifications. Remove the custom ad blocker rule(s) and the page will load as expected.