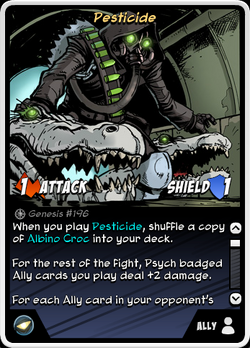 Pesticide (Genesis, #196) is an Epic Ally card with 1 Attack and 1 Shield.
Card Effect
When you play Pesticide, shuffle a copy of Albino Croc into your deck.
For the rest of the fight, Psych badged Ally cards you play deal +2 damage.
For each Ally card in your opponent's depetion pile, Pesticide deals +1 damage.
Card Description
Pesticide lives underground, beneath the streets of Cuverton. He shuns human company, wich in turn shuns him -- perhaps in part because of the residual odor that comes from dweling in the sewers.
He's abble to comunicate with feral animals who share his domain and hence has an army of beasts at his disposal that ranges from rats to albino crocodiles. He uses his force to punish criminals. Pesticide has no pacience for the wiked men and women who infest his city, or for those who stand by and do nothing while they carry out their evil deeds. So he surves as judge, jury and exterminator.
Other Versions
Edit
How to Obtain
| Basic Packs | | Advanced Packs | |
| --- | --- | --- | --- |
| Honor | | Cosmic | |
| Glory | | Prestige | |
| Draft Exclusive | | Draft | |
| Win From Battle Only | | Specific Crafting | |
| --- | --- | --- | --- |
| Issue: | N/A | Forge Section: | N/A |
| Enemy: | N/A | Materials: | N/A |
Ad blocker interference detected!
Wikia is a free-to-use site that makes money from advertising. We have a modified experience for viewers using ad blockers

Wikia is not accessible if you've made further modifications. Remove the custom ad blocker rule(s) and the page will load as expected.