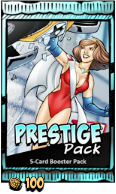 The Prestige Pack costs 100 Legacy Coins.
Prestige packs will always contain at least five rares or better, they can even include legendary cards!
Description
Edit
Prestige and respect of one's peers are hero's greatest rewards.
Crafting Materials
Edit
Prestige packs may contain crafting items.
Ad blocker interference detected!
Wikia is a free-to-use site that makes money from advertising. We have a modified experience for viewers using ad blockers

Wikia is not accessible if you've made further modifications. Remove the custom ad blocker rule(s) and the page will load as expected.