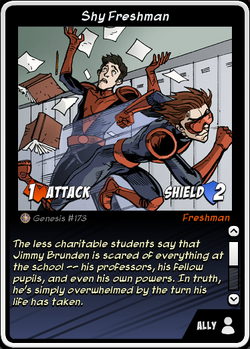 Shy Freshman (Genesis, #173) is a Common Ally card with 1 Attack and 2 Shield.
Card Description
The less charitable students say that Jimmy Brunden is scared of everything at the school -- his professors, his fellow pupils, and even his own powers. In truth, he's simply overwhelmed by the turn his life has taken.
When he found out he was an Emergent, he did the responsible thing by applying to the Phaeton Project. But even as he filled out the forms he was dreading what the future would hold.
How to Obtain
| Basic Packs | | Advanced Packs | |
| --- | --- | --- | --- |
| Honor | | Cosmic | |
| Glory | | Prestige | |
| Draft Exclusive | | Draft | |
| Win From Battle Only | | Specific Crafting | |
| --- | --- | --- | --- |
| Issue: | N/A | Forge Section: | N/A |
| Enemy: | N/A | Materials: | N/A |