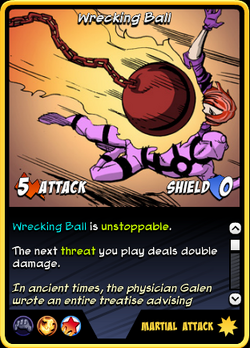 Wrecking Ball (Mastermind set) is a Common Martial Attack card with 5 Attack and 0 Shield. It has the Mastermind, Reflex, and Sculpting badges.
Card Effect
Wrecking Ball is Unstoppable.
The next threat you play deals double damage.
Card Description
In ancient times, the physician Galen wrote an entire treatise advising people to exercise with balls. He proclaimed that wrestling, riding, and other athletic pursuits were exceedingly dangerous, and would leave a person battered and broken -- whereas balls were both healthy and safe.
Had either Quickhit or Maser attended school long enough to know who Galen was, they might have been tempted to rebut his theory.
Ad blocker interference detected!
Wikia is a free-to-use site that makes money from advertising. We have a modified experience for viewers using ad blockers

Wikia is not accessible if you've made further modifications. Remove the custom ad blocker rule(s) and the page will load as expected.