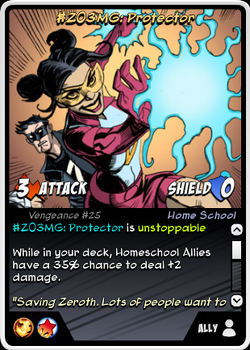 Z03MG: Protector (Vengeance, #25) is an Epic Ally card with 3 Attack and 0 Shield. It has the Reflex and Sculpting badges.
Card Effect
​#Z03MG: Protector is Unstoppable
While in your deck, Homes School Allies have a 35% chance to deal +2 damage.
Card Description
"Saving Zeroth. Lots of people want to kill him. Now he's young, maybe he'll ask me out. #takemesomeplacenice" -- #Z03MG's Twitter feed"
Other Versions
Edit
More info about #Z03MG
Edit

- #Z03MG's history and background.
- Cards featuring #Z03MG on their illustrations.
- Other members of Home School: Makeshift, Quickhit, Maser, Johnny Tinker
Ad blocker interference detected!
Wikia is a free-to-use site that makes money from advertising. We have a modified experience for viewers using ad blockers

Wikia is not accessible if you've made further modifications. Remove the custom ad blocker rule(s) and the page will load as expected.